The Children of Destiny, is a major crossover fanfic I'm writing, in which Phantasy Star plays a pretty big part. Or at least a few characters. Here's the link to the first chapter, and you can get to the rest from there.
http://www.fanfiction.net/s/4365948/1/The_Children_of_Destiny_part_1
Although the first chapter just follows one character, but another one quickly joins in the second, which is an original Numan character I made, Sarah. Here is a picture of her.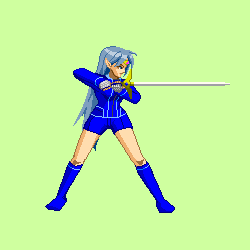 Sarah is the daughter of an interesting couple, a Sega Mother, and a Capcom father. This sprite was made by a buddy of mine on another board, in case you were wondering who made it.
Anyway, she plays a big role in the story, and plays a bigger part in the upcoming part 2 of my fanfic, as I'm still writing part 1, but that part is about wrapped up. And her parants are hinted at a few times here and there.
And a few Phantasy Star characters do make appearances in one chapter in paticular.(Also take note, I'm on my laptop, and it doesn't have a spell check for websites, so my words maybe a little off.)
So tell me what you think, I would like to hear your comments.